Meet our line up of Indigenous experts and technical wizards.
Steve's Bio
Steve is Anishinabe/Saulteaux and a member of the Ebb and Flow First Nation from Manitoba. He is a director and past president of the Firelight Group. Steve founded the annual Indigenous Mapping Workshop.
Since 1998, Steve has worked as a researcher and professional cartographer / geographic information systems (GIS) specialist, primarily with Indigenous groups in North America. Steve provides project management, senior advisory and technical support for traditional knowledge and use studies; social, economic and health studies; land use planning; treaty land entitlement; and natural resource management. The other aspect of his work is to promote the transfer of knowledge by facilitating hands-on technical training and mentorship with First Nation practitioners. He has facilitated workshops in communities and presented at numerous conferences in Canada and internationally.
Steve is a board member of the West Coast Environmental Law Association, a board member of the Canadian Remote Sensing Society, an advisor to the Metcalf Foundation, a moderator of the Open Forum on Participatory Geographic Information Systems and Technologies, a moderator of the Unmanned Aerial Vehicles for Agriculture (UAV4AG), a co-moderator of the Aboriginal Mapping Network, and a trainer of the Google Earth Outreach Trainers Network.
Panels
Overview: Monday, November 16 9:30am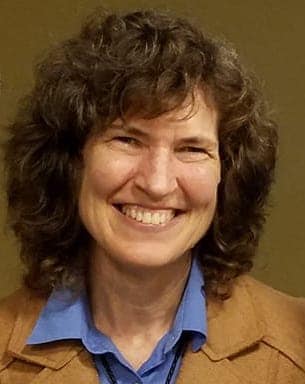 Cynthia Annett
Associate Research Professor, Kansas State University
Cynthia's Bio
Cynthia is an associate research professor at Kansas State University where she provides technical assistance to American Indian Tribes and Alaska Native Villages through the Tribal Technical Assistance for Brownfields program at the Center for Hazardous Substance Research. She has worked as an environmental scientist and aquatic ecologist throughout the US and Russia. Cynthia uses Google Earth, My Maps and Open Data Kit to help tribes inventory environmental impacts and cultural sites as a component of tribal resiliency and climate adaptation planning.
Panels
Overview: Monday, November 16 9:30am
Steve's Bio
Moka descends from the Ngāti Hikairo, Ngāti Te Wehi, Ngāti Wairere, Ngāti Porou and Te Whanau a Apanui tribes of Aotearoa, New Zealand.
Moka's journey in the GIS sector has been guided by the vision of his tribal elders 28 years ago. Moka serves his tribal communities in the roles of the Chair and Treaty
Negotiations Manager for his Ngati Hikairo tribe, GIS Project Manager for his Ngati Porou tribe, and as the Technical Advisor for his Waikato Tainui tribes on the National Tribal Leaders Data Forum on issues pertaining to Indigenous data sovereignty. Moka has worked extensively with tribes to support them to use GIS to engage and negotiate their Treaty grievance claims with the New Zealand Government, and designed and managed the GIS framework for tribes as part of the New Zealand Treaty Settlement process. He is passionate about building grassroots GIS capability to support tribes in the preservation of traditional knowledge systems and cultural revitalisation projects and continues to work with many tribes in their Post-Settlement phase.
Moka is also the Managing Director of Digital Navigators Ltd, a Maori owned and operated business, which provides GIS mapping services, education and strategic digital technology advisory to build family and tribal GIS capability within Indigenous communities. Digital Navigators Ltd hosts the annual Indigenous Mapping Workshop in Aotearoa New Zealand and is pleased to partner with the Firelight Group towards the delivery of this IMW2018 here in Quebec. As a Google Earth Outreach Experts panel Moka also uses these avenues to share his experience and expertise to support Indigenous peoples.
Panels
Overview: Monday, November 16 9:30am
Want to hear from some of these amazing people? Join us online, November 16 to 18, 2020. Click the button below to register.